SCARAMOUCHE JONES
From tragic beginning's to the tumultuous and bizarre world of religious and global politics.
A compelling reflective insight into the world of the 20th Century, Scaramouche Jones the play, takes us on journey of crumbling empires driven by a courageous spirit through the West Indies, Europe Africa and beyond.
Scaramouche the character is so delicately penned with the perfect balance of beauty and tragedy – one we all recognise in ourselves – the ultimate mask of the clown.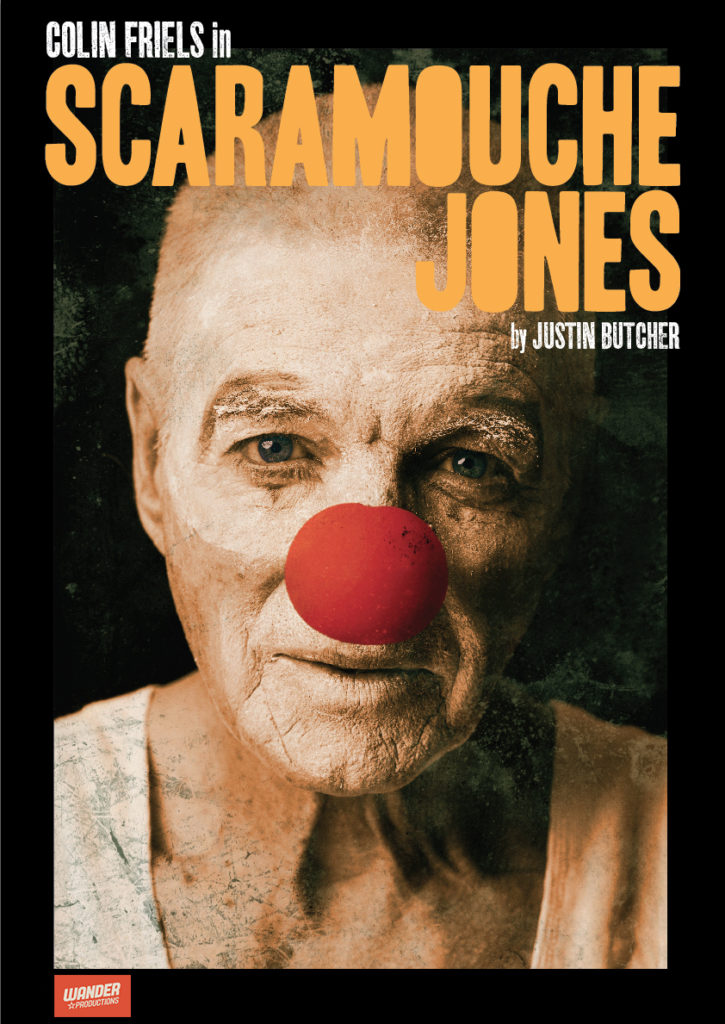 Scaramouche Jones had its world premiere at the Dublin Theatre Festival, in October 2001, performed by Pete Postlethwaite, directed by Rupert Goold, designed by Ashley Martin-Davies, with lighting design by Mike Gunning and music and sound design by Adam Cork, produced by Dick Penny and Stephen Rebbeck in association with the Bristol Old Vic. Its UK premiere the following year in Bristol broke box office records for a piece of new writing in the Old Vic's 200-year history. Pete Postlethwaite went on to tour Scaramouche Jones throughout the UK in 2002, and the globe in 2003, winning the What's On Stage Best Actor Award, and was nominated for the Barclays Stage Partners Best Actor Award and the Dora Best Actor Award in Toronto, Canada.
Since then, Scaramouche Jones has been translated and produced in Croatian, Finnish, Danish and Spanish, as well as many times in the UK, Australia, Canada, Malta, New Zealand and other English-speaking territories. A radio version, The Seven White Masks Of Scaramouche Jones was broadcast in 2001, performed by Warren Mitchell, produced and directed by Claire Grove for BBC Radio 4. There has not been a year since its 2001 premiere without a production of Scaramouche Jones taking place somewhere in the world. The play is studied in schools and universities throughout the world and has been the subject of several academic articles and book chapters. The writer's own performance of Scaramouche Jones, directed by Guy Masterson, premiered at the Assembly Rooms at the 2008 Edinburgh Fringe, and has been touring the globe ever since, including seasons in Adelaide in 2010 and 2012, where it was nominated for the BankSA People's Choice Award, performances in Milan and a major tour of Mexico in 2015. Scaramouche Jones will have its French premiere in a Paris production performed in English and French on consecutive nights, by the Parisian bilingual theatre company Dear Conjunction, in the autumn of 2018. Meanwhile, a new London production is in planning, directed by Nick Hutchison, to open at the Wilton's Music Hall in January 2019.
Of the play's inception, Justin Butcher writes:
"I wrote Scaramouche Jones in the final months of 1999, while I was away in Holland directing a TV series, primarily as an amusement for myself in the evenings. Since the only goal was to write something 100% attuned to my own tastes (and if anyone else liked it, so much the better), I cheerfully chucked all my favourite ingredients into the pot: a lifelong fascination with clowns, the fate of the lost race known as the English, stranded in the backwash of the colonial era, having scattered their irresistible absurdities across much of the globe, the Boys' Own yarn-spinning of Conan Doyle, Haggard, Buchan and Kipling, the weird displacements and upheavals of populations and cultures through 20th century wars and disasters – perhaps threaded together by a vague thought of adding my own ten penn'orth to all the millennial pomp and circumstance crowding the airwaves at the time of writing. Through pillaging the exploits of my own patchwork family, whose web of intersections meanders (like Scaramouche) across Trinidad, West Africa, Italy, Poland and even the Nuremberg Trials (the Hon Justice Percy Rawlins was my great-uncle), with snakes, concentration camps and grave-faced actors thrown in, Scaramouche Jones also became an experiment in personal myth-making, and so the tale is dedicated with great affection and gratitude to my family in memory of their adventures throughout the craziest, bloodiest and yet most bountiful century in human history."
"He deserves Paradise who makes his companions laugh." (The Koran)
Theatre Reviews
http://www.stagenoise.com/review/2018/scaramouche-jones
http://theblurb.com.au/wp/scaramouche-jones-acm-theatre-review/
http://www.wanderproductions.com.au/?page_id=217&preview=true
https://theplusones.com/melbourne/2018/08/21/bravura-performance-about-retiring-clown-scaramouche-jones/
http://www.theatrepeople.com.au/scaramouche-jones/