Andrew Barker – Producer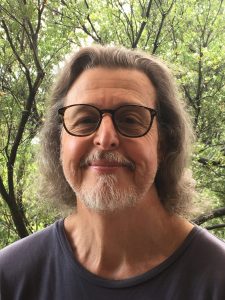 Helpmann Award winning Producer Andrew Barker has been working in the performing arts industry for well over 35 years, collaborating with some of Australia's finest Directors, Designers and Performers. Prior to becoming an independent producer, Andrew worked for Melbourne Theatre Company; Playbox Theatre Company (now Malthouse Theatre), Burberry Productions, Dainty Consolidated Entertainment as a General Manager and was also a First Assistant Director for two and a half years at Grundy Television Australia working on Neighbours.
In 2009 Andrew formed Folsom Prison Productions, which created Andrew's seed concept of the critically successful The Man in Black: The Johnny Cash Story starring Tex Perkins, which toured for three years nationally. In 2010 Folsom Prison Productions won the Helpmann Award for Best Australian Contemporary Concert.
Following the success of The Man in Black, Andrew was inspired to write the Bon Scott Story – Hell Ain't A Bad Place To Be – as he was struck by the unique parallels of the Australian working class hero and underdog. "Bon Scott's story is as fascinating as it is moving and intriguing." Hell Ain't A Bad Place to Be: The Story of Bon Scott has so far performed in Melbourne, Perth, Canberra, Gold Coast and Hobart.
In 2014 Andrew created Wander Productions and is it's sole Director and Producer.
The company's main objective is to nurture, support and produce new and independent artists, performers and musicians as well as fostering the already established relationships with profile artists.
Andrew's production of Once Were Leaders – An Evening With Max Gillies, co-collaborated with friend and colleague, Max Gillies AM, toured nationally over four years with sold out seasons.
In 2017 he produced a one off concert at Hamer Hall with Splitz Enz song writer and keyboard wiz Eddie Rayner – ENZO – a reimagining and celebration of the classic Split Enz hits with a core five piece band an Enzemble of four New Zealand singers and Horn Players and a six piece String Section from Melbourne.
August 2018 saw Andrew's production of Scaramouche Jones starring Colin Friels at The Fairfax Studio, Arts Centre Melbourne earning critical acclaim with the production touring in 2019.
He also worked with Australia's own Mark Holden on his new one man show, The Greatest Show on Earth about Mark's family circus background.
As well as the above productions, Wander Productions has also produced and mentored Independent Artists with productions including Women in War – a Greek/Australian contemporary opera; Wrongful Life a play by Ron Elisha; Throttle – a musical and visual feast as live drums are played in time to the video playback abounding the stage; Matador – a fusion of burlesque, dance and circus at the Melba Spiegeltent in 2019.